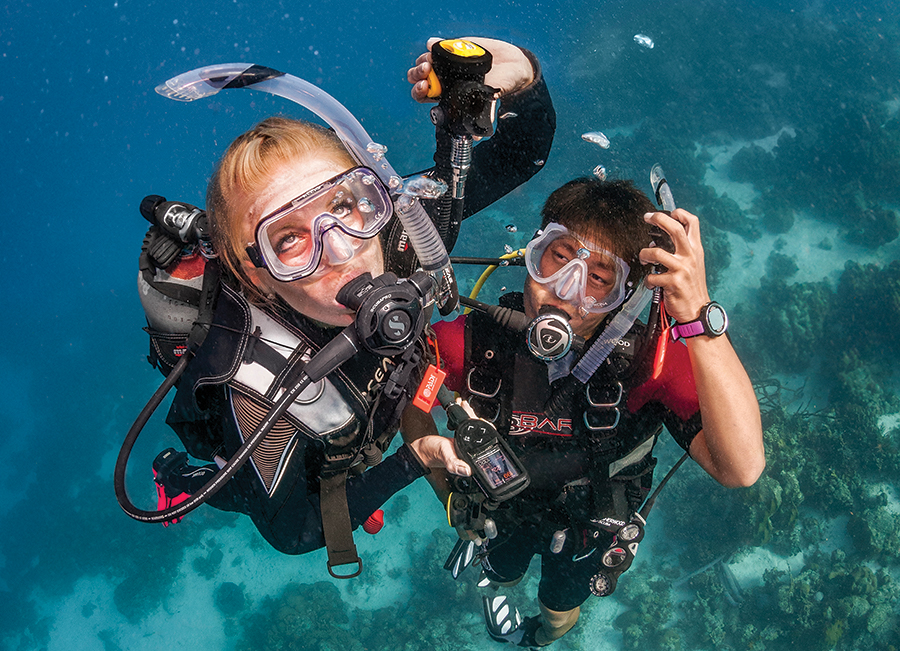 This package is designed for those who would like to extend their diving knowledge, to learn new skills to improve their comfort underwater or to go PRO and meet requirements to apply for work as a safety-conscious dive guide. This intense course will entail a lot of theory combined with its underwater application, so be prepared to study hard. However, this gives you a chance to become a Divemaster in one place and continue your internship elsewhere. We've specifically designed it for you with this flexibility in mind.
Price includes:
15 days Divemaster course;
Unlimited amount of diving during the course;
T-shirt;
Diving equipment rental (you should have your own mask, snorkel, fins and a dive computer).
Exclusions:
PADI Divemaster Crewpack (bag with materials needed);
PADI Fee (212 AUD);
Accommodation and food.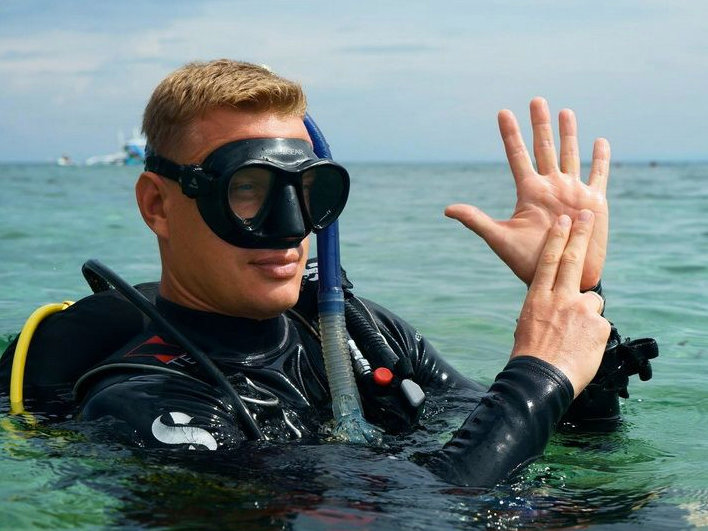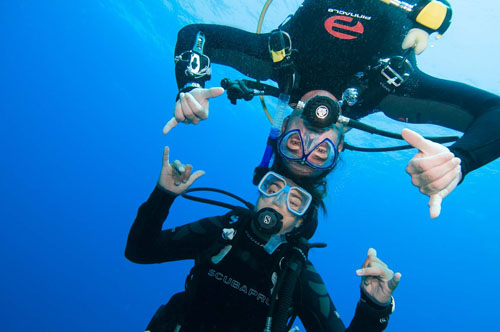 PADI Divemaster(Advanced)
This is the classic Divemaster course you can find at most dive centers, with a twist. Our approach is to get you assisting on courses as soon as possible by getting you appropriately prepared. That's why in the first 9 days you will work on presentations, skill development and stamina to comfortably assist instructors in diving courses and programs. We prepare you for real Divemaster duties within the first 9 days to give you a chance to truly experience what it is like to work as a diving professional. Starting day 10 you will assist in courses and guide additional Discover Scuba Diving program dives, because at that point you will be a certified Divemaster. No sitting and waiting for the Instructor to become available to do your training because he/she is busy with the students from another course.
Price includes:
30 days Divemaster course;
Unlimited diving during the course;
T-shirt;
Free Dive Against Debris course; and,
 Diving equipment rental (you need your own mask, snorkel, fins and a dive computer).
Exclusions:
PADI Divemaster Crewpack;
PADI fee (212 AUD);
Accommodation and food.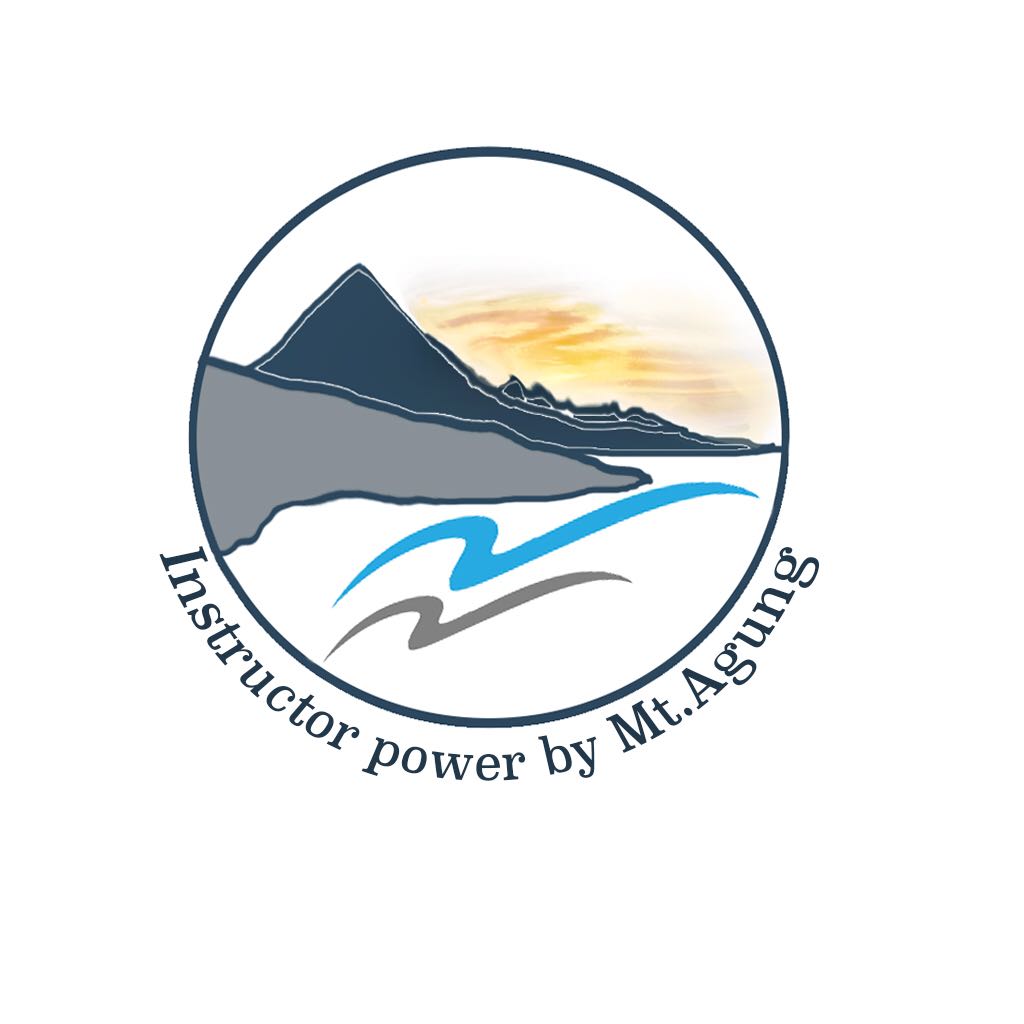 PADI IDC (Instructor course)
If you like people, have a passion for scuba diving and want an extraordinary life – become a PADI Instructor.
Teaching scuba diving allows you to share your love of the aquatic world with others while doing what you enjoy – being in, around and under water. PADI Open Water Scuba Instructors and PADI Assistant Instructors are the most sought-after dive professionals around the world because they've completed the program that sets the standard for training dive professionals. You earn a PADI Instructor rating through hard work and commitment, but you're rewarded with a job that lets you share incredible underwater adventures with others – transforming their lives for the better and enriching yours.
IDC and IE Prerequisites
To enter our IDC you must be a PADI Divemaster, or equivalent, and have a current first aid and CPR certification. Current means simply that it has been issued or refreshed within the last 24 months; if this is not the case we can include the EFR course in your package.
You will need a minimum of 100 dives and have proof that you are medically fit for diving. A Doctor's Clearance must be obtained before starting the IDC, as there will be little time during the program and you will not be allowed to participate in the in-water training without it.
Past these basic requirements, there are some other expectations: your dive skills must be at a level expected of a professional diver. You must also have a reasonable understanding of Dive Theory. This can be achieved by using the PADI Diver Knowledge Workbook and the Encyclopedia of Diving. Alternatively, an online solution is PADIs Dive Theory delivered through e-learning.
If you are not sure of your Dive Theory Knowledge, please ask for a free evaluation, we make these available to you when we receive your booking. For those properly prepared, the IDC will be a fun program, those who show up unprepared are setting themselves up for a lot of extra work, and the program will be less enjoyable.
What does it cost?
This is an important question as it is a significant investment for any diver. Instructor Development Courses are made up of several components: Dive Center charges, PADI fees, and IDC materials.
Course materials: referred to as crew packs, the course materials may vary in price depending on where you buy them. We do not aim to profit on these and you are welcome to bring your own if you wish. It can take some time to obtain crew packs in languages other than English so please give us as much warning as possible.
The courses: two primary courses are the IDC and EFR Instructor programs. See below for these course costs. You may also wish to enrol in Specialty Instructor and/or Master Scuba Diver Trainer (MSDT) courses. Please ask us for more info about these.
PADI fees: these are made up of examination and registration fees. See below for a breakdown. These fees are payable directly to PADI by cheque or credit card on the first day of your Instructor Exam (IE).