Recreational dive sites range in depth from 10 meters to 40 meters and most are easily accessible from shore. With plenty of dive sites to choose from in Amed, Tulamben, Candidasa and Nusa Penida, we assess the best and safest sites to dive each day, based on our experience, your preferences and prevailing conditions.
Dive groups are kept small with a maximum of 4 divers per guide.
Fun Dives are for certified divers only. Check out our PADI Courses available if you want to get certified with Ocean Dive League.
All prices in USD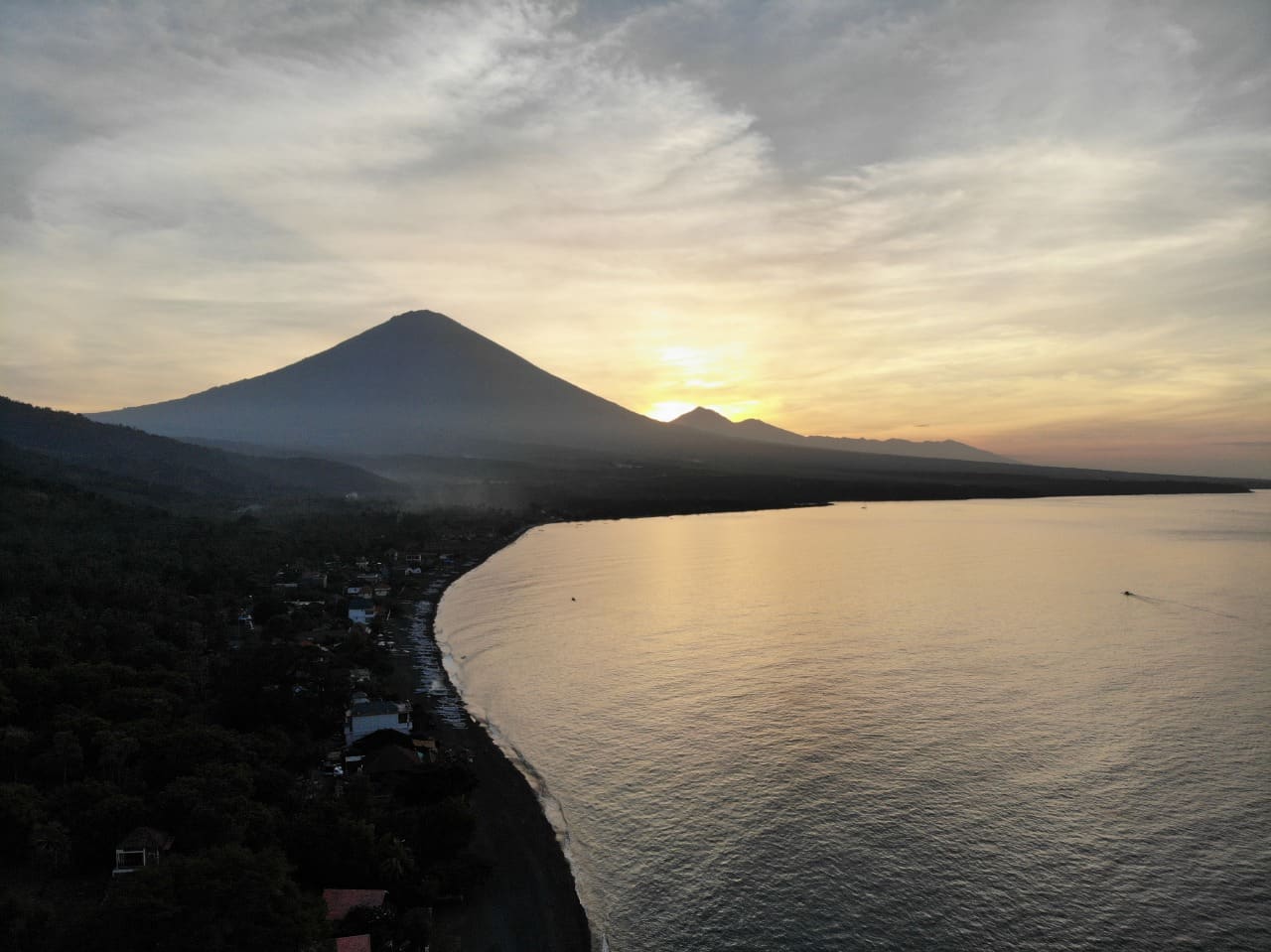 The Amed area covers approx 15 km of coastline consisting of dive sites from Malasti Amed through to Gili Selang. Most sites can easily be accessed from shore and range from macro, drift, walls, wrecks through to strong current dives (advanced).
2 Shore dives:  70
2 Boat dives:  80
3rd Dive same day: +30 shore / + 40 boat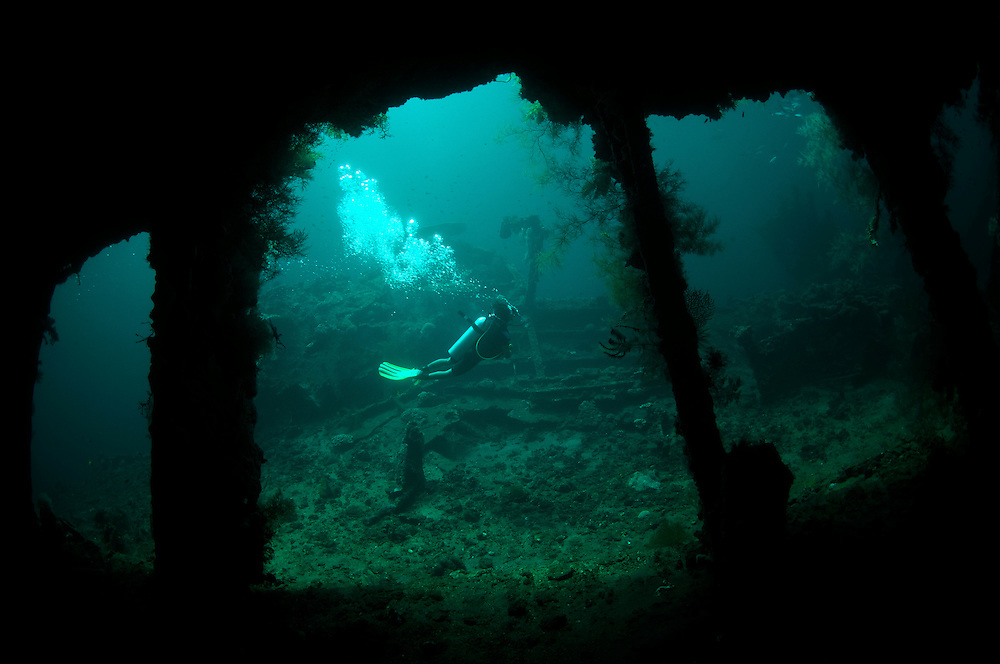 The world famous USAT Liberty Wreck is a must for all dives in Tulamben. The area also features coral gardens, walls, muck and a smaller wreck in Kubu.
2 Shore dives:  75
3rd dive same day +30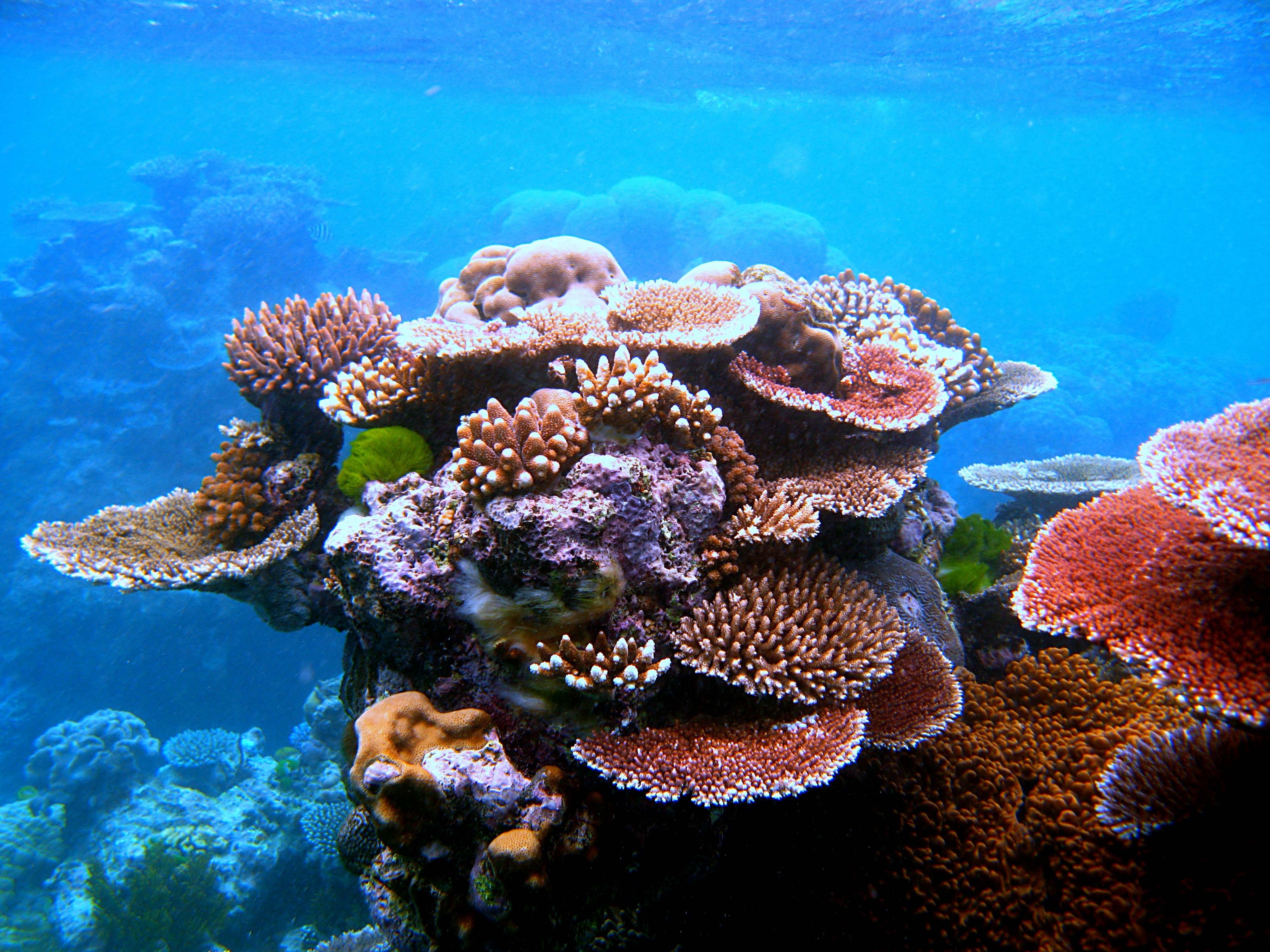 The best dive sites are around the four small rocky islands of Gili Tepekong, Gili Biaha, Gili Mimpang and Gili Selang. These islands are famous for shark sightings, including many species, even the hammerhead if you are lucky!
There are also regular encounters with the giant Mola Mola during the right season (August to October). The coral here is truly superb and very healthy.
Minimum 4 persons
2 Boat dives:  95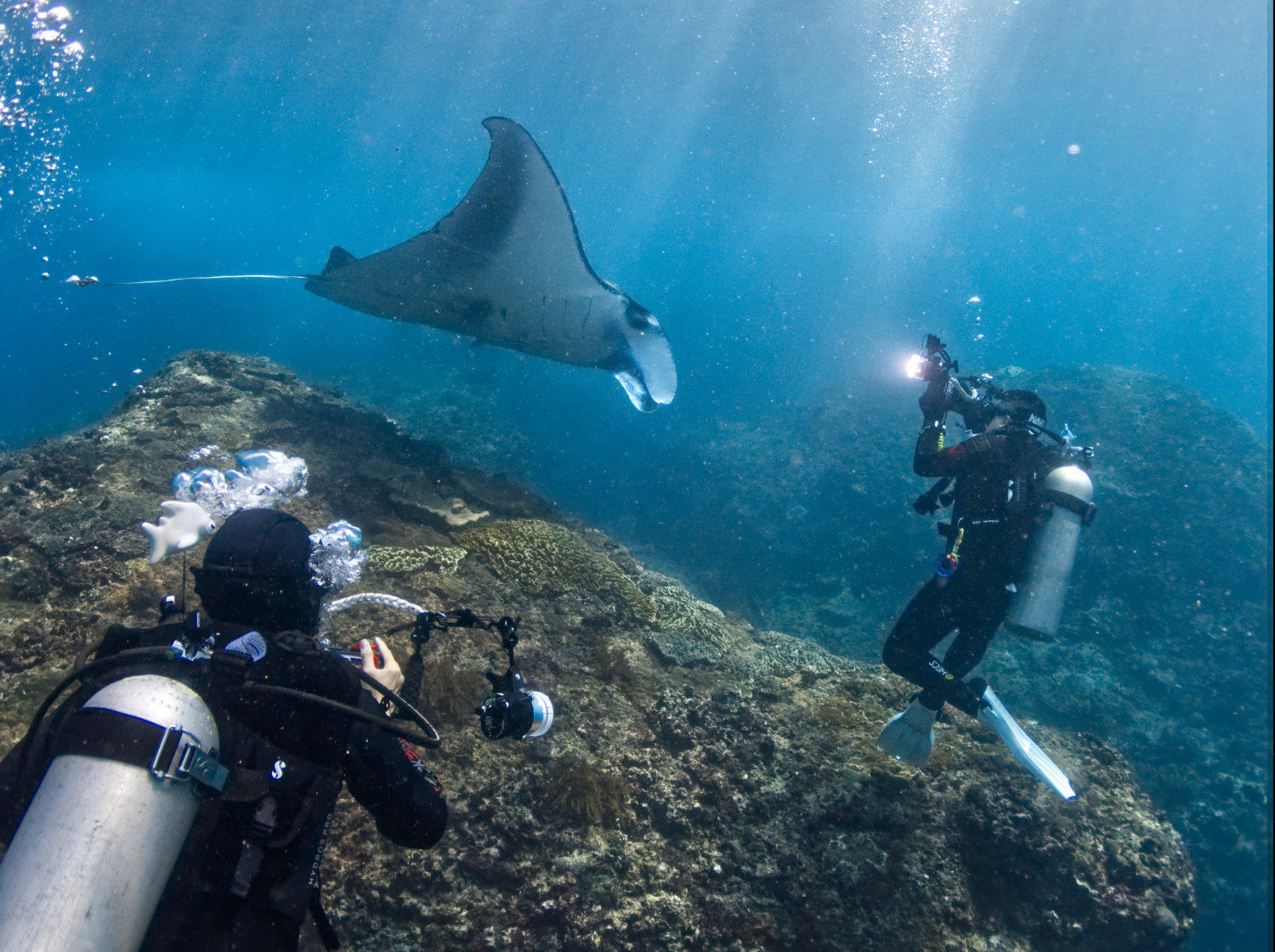 Easily accessed by day boat from Padang Bai, the Lombok Strait island of Nusa Penida offers a great chance to see Manta rays all year round and Mola-Molas (July – September). Due to the currents, mola-mola day trips are reserved for more experienced divers.
The diving in Bali is excellent all year round, with water temperatures range from 27° to 30° Celsius (80° to 86° Fahrenheit). The waters of Amed and Tulamben regions are often protected from prevailing seasonal weather conditions that affect other areas of Bali.
The Amed area covers approx 15 km of coastline consisting of dive sites from Malasti Amed through to Golden Rock. Most sites can easily be accessed from shore with boat dive used predominantly for drift dives at Bunutan, Lipah, Deep Blue and Golden Rock.
Dives range from macro, drift, walls, wrecks and coral gardens through to advance strong current dives at Gili Selang.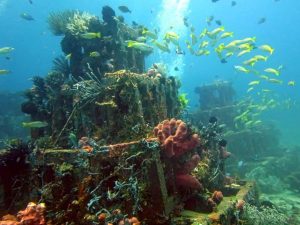 This site is both a shore and boat drift dive.
More than 20 years ago locals dropped neutral-Ph concrete pyramids and tires to attract fish and marine life to create a new reef. Mission accomplished!
This dive site is a must when you come to Amed: starting from the sandy bottom full of garden eels and blue spotted stingrays you will see the first pyramid as you go a bit deeper. Take your time to look inside these structures, it's a perfect place for moray eel, lionfish, shrimps, and leaf scorpion fish. After a while take a look at the amazing natural reef at around 15 meters depth, it's full of colours and you can even see turtles if you are lucky.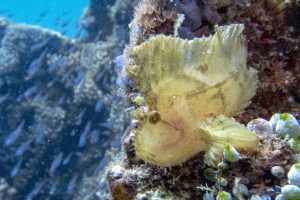 The sheltered and calm waters of Jemaluk Bay are an ideal introduction site for scuba diving in Amed area.
Along with a myriad of beautiful coral fish, the sites are also great for macro life with seahorses, ghost pipefish, frogfish, crabs, shrimps and loads of nudibranchs. Keep an eye out for turtles and reef sharks that are often seen here in the deeper parts.
Towards the end of the dive head back to the coral garden that sits in five to ten meters. The area is full of beautiful healthy corals and a great place to be as we conduct our safety stop.
This site is also really popular with snorkelers who can enjoy the shallow waters over the spectacular coral garden.
Bunitan is a beautiful drift dive over spectacular coral gardens. As you drift along this 500 meters long reef, keep your eyes open and have a look in the blue in case bigger things show up. This area offers frequent sightings of reef sharks and turtles.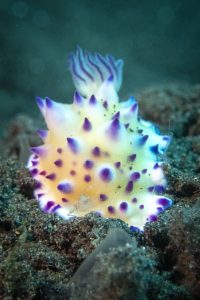 Entering from the corner of the bay on sandy slope, this site is ideal for macro photography. Not far from shore you will also reach beautiful reef outcrops.
This site is very rich and you will be able to see many reef fish, along with juveniles of all species, shrimps, porcelaine crabs, nudibranchs galore, and many scorpion fish.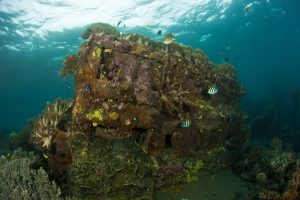 A rather small (about 10 meter long) wooden shipwreck is lying just a few meters from the beach at a depth of just a few meters in a beautiful coral garden and is therefore also a perfect spot for diving or snorkeling. Divers usually go around the corner and dive deeper to about 25m with a fair chance to encounter an eagle ray or two. Napoleon fish, turtles, striped catfish, sting rays, sea fans and nudibranchs can all be seen at the Javanese ship wreck.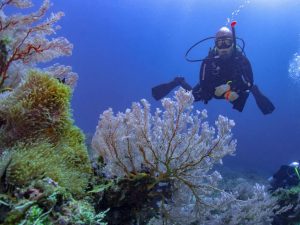 Drift dive from boat over beautiful coral gardens. White-tip reef sharks and turtles are often seen here.
Relax while the medium paced current floats you past soft and hard corals from at depth ranging from 5m to 30m.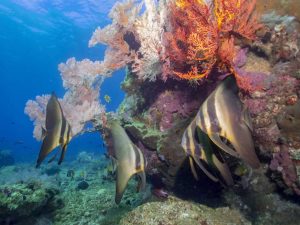 Another specaticular drift dive from boat over beautiful coral gardens. White-tip reef sharks and turtles are often seen here.
Relax while the medium paced current floats you past soft and hard corals at a depth ranging from 5m to 30m.
Since the discovery of the USAT Liberty wreck as a diving destination back in the 1980's, Tulamben has become a world famous dive site with divers all wanting to take a glimpse. The area also features another lesser known Boga wreck that was sunk in 2012 at Kubu.
It's not just the wrecks that draw divers here, the area also boasts some beautiful drop off walls, coral gardens and some amazing muck sites.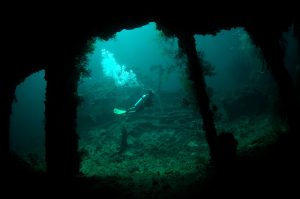 This is Bali's most popular dive destination, and with good reason! It is the home of the U.S.A.T. LIBERTY, a World War II cargo ship that was torpedoed and left upon the beach. In 1963 Liberty was swept into the ocean by the eruption of Mt. Agung and now rests in water between 5 and 30 meters deep.
In the vicinity of the wreck are other world famous sites, home to 100's of species of reef fish, soft and hard corals, nudibranchs, pygmy seahorses, electric clams and other rarities.
Excellent for night diving when the bumphead parrotfish come to the wreck.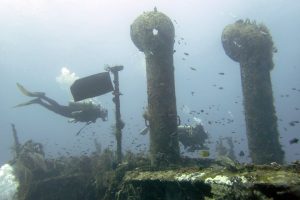 This ship was sunk in 2012, thus is still fairly new. The wreck is wonderfully decorated, for example with a car. Also, the wreck is made for easy access and exit. The corals are beginning to grow and attract more and more marine life to the wreck.
Statues, car and other objects have also been sunk with the boat.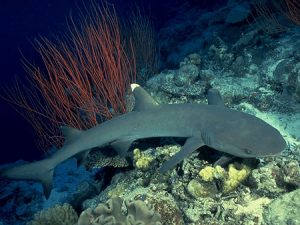 This dive site consists of two reefs, one left and one right. The reefs are full and beautifully overgrown with hard and soft corals, huge vase corals and gorgonians. In addition to large quantities of fish we often see white-tip reef sharks, Napoleon, eagle rays, and sometimes a herd of bump head parrot fish comes by for a photo!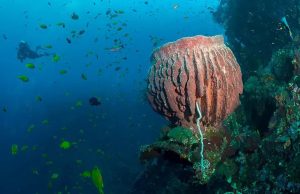 Also called Tulamben Wall, this spot is a drop off. Weak current and a good visibility of 10 to 30 meters.
The Tulamben drop off is one of the most popular sites of Bali. Descending from 3 meters to 80 meters depth, it has been formed by the lava river of the Mount Agung of 1963. It is today covered in a multitude of coral.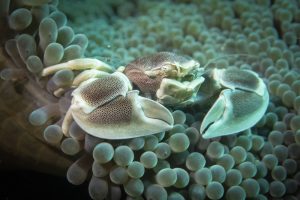 Shallow water site located in one of the most rich and biodiverse regions of Tulamben.
It is also the site where we are most likely to see black-tip sharks. This magnificent coral reef shelters numerous varieties of clown fish hiding in the anemones (white, green and blue), accessible to divers of all levels. This is an ideal spot for underwater photography.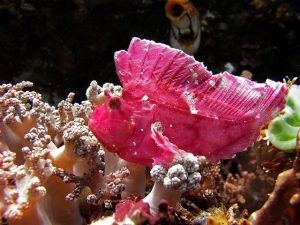 The site consists of big lumps of coral on a sand bed. The structure of the dive site stands out from the others of the Tulamben region because of the species found here. This makes it a particularly interesting site for divers staying a few days in Tulamben. Do not miss the purple Leaf scorpion fish that are seen on every dive here.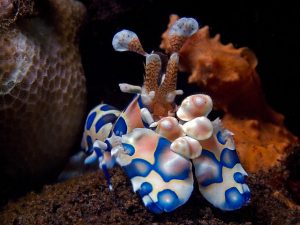 Seraya area is one of the most famous macro sites of Bali; know for years, photographers reunite here to capture shots of rare creatures, like the harlequin shrimp, nudibranchs, frogfishes, crabs, pipe ghostfish, skeleton shrimps, mimic & wonderpust octopuses, bornelas, scorpion leaf fishes and much more.
Sites include: Seraya Secret, Sidem, Pura Segara, Cantik Point, Melasti Tulamben, Batuniti and Batubelah.
The best dive sites are around the four small rocky islands of Gili Tepekong, Gili Biaha, Gili Mimpang and Gili Selang. Many people say this is THE best diving in Bali! And the visibility is often excellent. The water is sometimes a bit chilly and a 3 mm wet suit would be a good idea to keep warm.
These islands are famous for the Sharks including many species: Whitetip and Blacktip reef Shark, the rare Wobbegong Shark, the very rare Cat Shark and even Hammerhead if you are lucky!
There are also regular encounters with the giant Mola Mola also called Oceanic Sunfish during the right season (August to October). The coral here is superb and very healthy.
But be CAREFUL! Due to challenging conditions, most of these superb dive sites are reserved for experienced divers only who are accompanied by an experienced guide!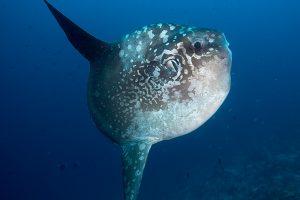 Shark Alley, Canyon, Wall and Swim-Throughs Dive Sites.
Magnificent rock pinnacles covered with hard and soft corals and breath-taking vertical walls with sea fans and a kaleidoscope of colorful tropical fish.
Moderate to strong and very strong. Can be a difficult site around full and new moon (down currents).
Superb numbers. Schooling barracudas, turtles and much more, a good chance to see big pelagic species like manta ray and sun fish in season (June-October).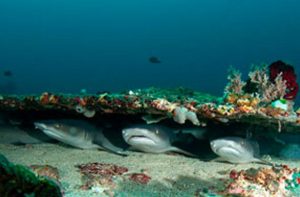 Gili Mimpang is situated between Gili Tepekong and the coast of Bali, and offers the same characteristics as Tepekong.
Three small islets outline the site. At the beginning of the dive, we descend onto a plateau with a large coral bommie where marine life abounds, and little by little we make our way along the reef as it begins to slope and eventually turns into a vertical wall. If conditions allow, we continue along the wall, and at a shallower depth, make our way around the last of the three islets in order to arrive back to where we began our dive. The cold currents here (18-20⁰ C) contribute to keeping the reef in excellent health, and also make it possible to encounter pelagics such as reef sharks, barracuda, stingrays, and even Mola Mola (sunfish), particularly from July to October.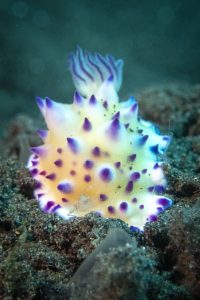 Blue Lagoon/Jepun is a small bay just outside Padangbai; it has a very unassuming appearance and is essentially a white sand slope and bottom with small scattered bits of reef and coral.
Take a closer look and you'll find an entrancing variety of marinelife in this area just waiting to be uncovered. This includes a collection of resident Blue-spotted rays and a large Napoleon wrasse through to nudibranchs of all shapes, sizes and colours and surprising discoveries of scorpionfish, lionfish and moray eels.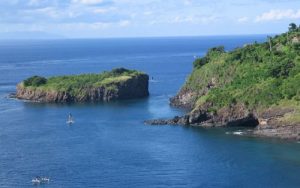 The small island of Gili Selang lies on Bali's eastern tip. It looks inviting however the more exposed areas can have up, down and swirling currents.
Your dive generally starts on the black sand slope which is dotted with nudibranchs and an abundance of other macro critters including gobies. The slope becomes a healthy, sheltered reef at a mere 4m and is a rich mixture of many, multi-coloured soft and hard corals.
The island of Nusa Penida is known world-wide for Manta rays and the Mola Mola, more commonly known as the Sun fish. Nusa Penida is the least populated of the islands situated just east of Bali.
During your boat ride from Pandangbai you will pass breathtaking views of impressive rocky cliff-faces, white sand deserted beaches, tropical forest and arid plant-life clinging to sheer walls that descend into the depths of the sea.
Manta Point is a "cleaning station" frequented by Reef Mantas (Alfredi Mantas). Dive with the majestic mola-mola during the season (July – Sept) in Crystal Bay.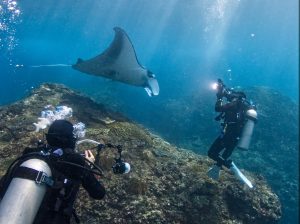 This is the must-see dive site for all divers who come to Bali. The Manta ray is a majestic and impressive animal, and seeing it for the first time is a transcending and magical experience. An unforgettable dive is waiting for you!
After following the sheer cliff-faces that characterize the coastline to arrive at the southeast end of Nusa Penida, you enter the mythical dive site of Manta Point. Sitting in 7 metres of water, nestled inside this protected bay, is the Manta "cleaning station" where mantas swim overtop of the same enormous boulder and allow the little cleaner wrasse to eat off the parasites that cover their bodies. The water temperature ranges between 20-24⁰ C and is often rich in plankton.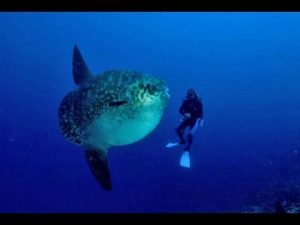 Crystal Bay is a renowned dive site for being one of the only places in the world to observe the giant Sun fish (Mola mola). These massive pelagic fish, measuring about 3 metres in height, swim up from the deep to be cleaned by banner fishes (species of butterfly fish). Our chances of seeing this amazing fish are greatest between June and October.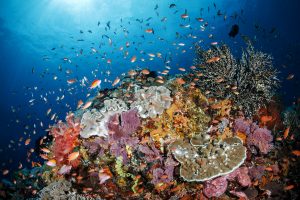 At the end of the channel, between Nusa Ceningan and Nusa Penida, we arrive at the dive site Toyapakeh. Semi-protected from the currents arriving from the strait of Ceningan, this is a superb site with large prominent boulders and very particular and uneven coral formations.
Between 6 and 15 metres, a coral plateau stretches out and then drops off to an abrupt wall that descends down to about 30 metres. Most often this is a drift dive that will sail people through a multitude of marine life and unbelievable corals, crossing paths with pelagics, including the Mola mola. Even in the shallows, thousands of juvenile fish take shelter amidst the coral reef.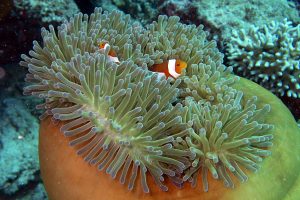 On the north coast of Nusa Penida, the seaweed farmers live along a white sand beach stretching the length of the coast, while beneath the surface the coral reef runs parallel to this magnificent panorama.
Choosing one of the several dive sites available, we descend just in front of a primary school (Sekolah Dasar) to dive the SD wall, or in front of a temple to dive the Ped wall, or a bit further we can find the dive site Sental. These sites are topographically very similar; all are characterized by a sloping wall that sinks out towards the dark blue of the ocean and the atmosphere is extraordinary.