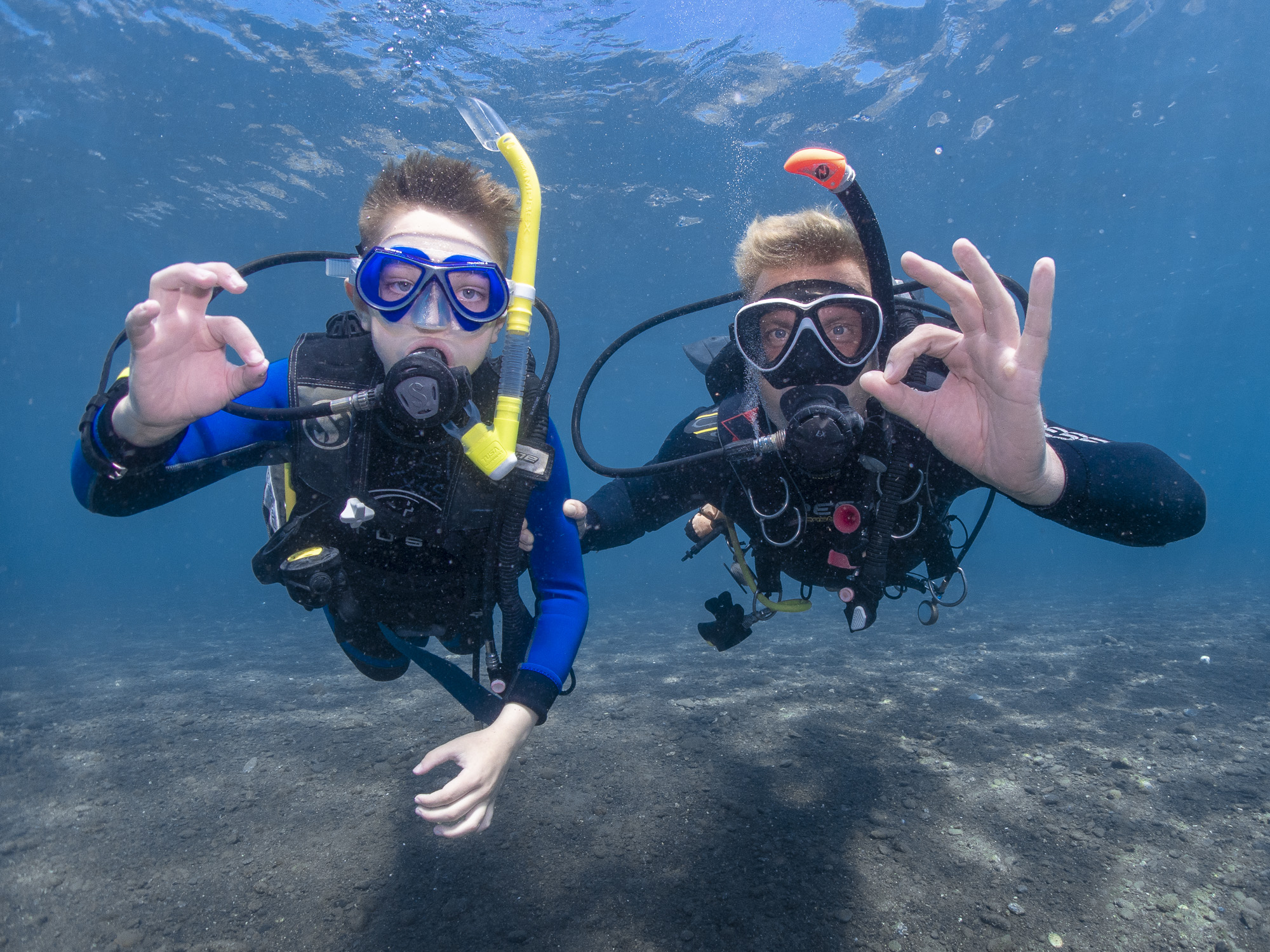 1 DIVE USD 70 / 2 DIVES USD 95
The PADI Discover Scuba Dive is an
introduction to diving for first timers
or people who do not have a certificate. You will learn some basic theory and safety rules before going for one or two dives in beautiful Jemaluk Bay.
This can be credited towards your Open Water Course if you wish to complete the full certification.
Divers must be at least 10 years old to take this course, be able to swim and have a reasonable fitness level. No previous experience necessary.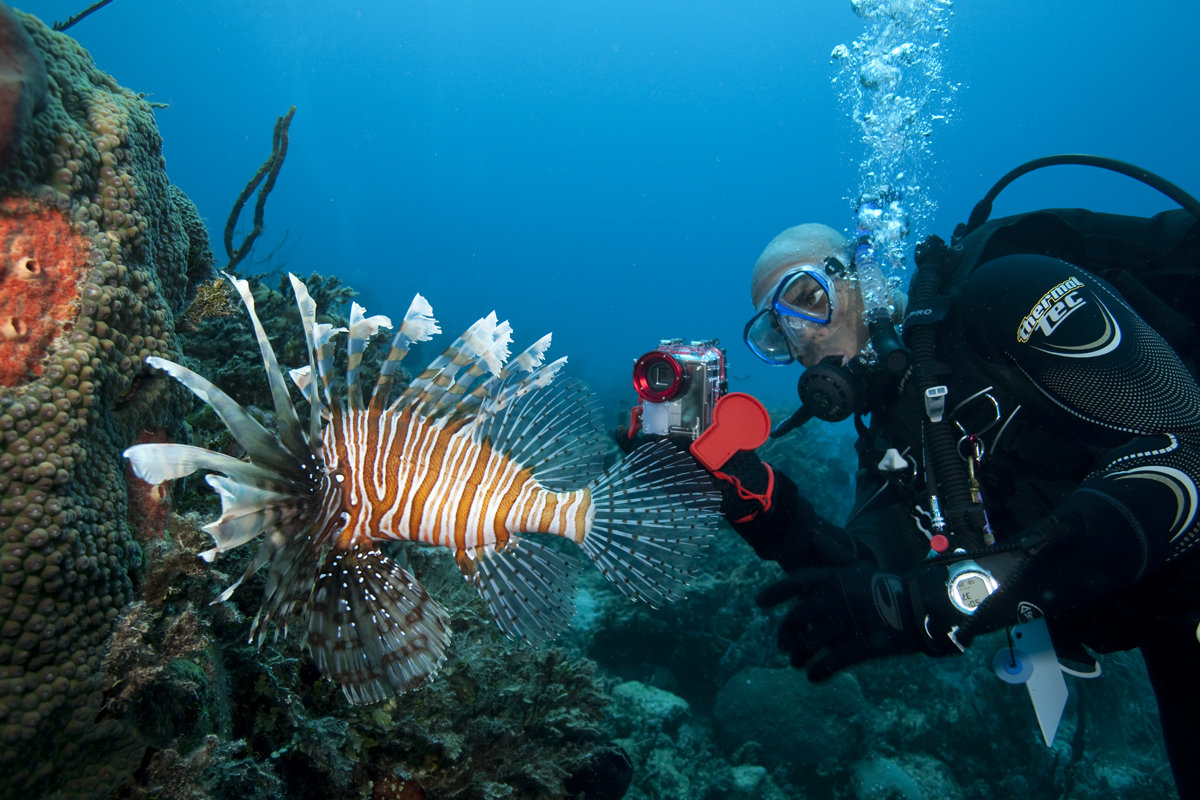 USD 300 / 2 DAYS / 2 DIVES
The PADI Scuba Diver course is ideal for those with limited time. It involves 3 modules of theory from the Open Water course, half a day of confined pool training and 2 open water dives up to 12 meters.
You will receive a certification that lets you dive to 12 meters under the supervision of a Divemaster or Instructor. This license is valid worldwide.
You can upgrade this certification to the Open Water diver level at any time.
PADI OPEN WATER DIVER (OWD) –
MOST POPULAR
USD 375 / 3 DAYS / confined + 4 DIVES
PACKAGE: OWD + AOWD / USD 610 / 9 DIVES
Become a certified diver and receive a permanent license to dive unsupervised to a maximum depth of 18 meters, valid worldwide for the rest of your life.
The course involves diving theory, video presentation, confined water pool training and four fun boat dives on Amed and Tulamben's amazing reefs; two dives to 12 meters and two dives to 18 meters.
Equipment rental, PADI Open Water E-Manual, Dive planner, Certification and Logbook are all included.
Children as young as 8 years
old can enjoy taking their first breaths underwater. Starting in the swimming pool, they are taught safety skills like clearing the mask and regulator, and also enjoying some games. Once they are comfortable and if the conditions are suitable, they can then enjoy an ocean dive to a maximum depth of 2 meters where they can expect to see turtles, clown fish, angelfish, trumpet fish and all of the other favourites
We have diving equipment in junior sizes including smaller tanks.
Divers must be 8 years old. No previous experience necessary
PADI ADVANCED OPEN WATER (AOWD)
USD 310 / 2 DAYS / 5 DIVES
PACKAGE: OWD + AOWD / USD 610 / 9 DIVES
Once you complete your PADI Open Water Course, you can continue your diving education with the
Advanced Open Water Course.
This course is designed to increase your confidence in the water whilst learning new skills. You have to complete 5 dives including the deep water dives and underwater navigation dives. You can choose from the following elective dives: night dive, drift, boat, photography, fish identification, wreck and peak performance buoyancy dive. Upon completion of this course, you will be more comfortable underwater and have a better understanding of the aquatic world allowing you to dive up to 30 metres.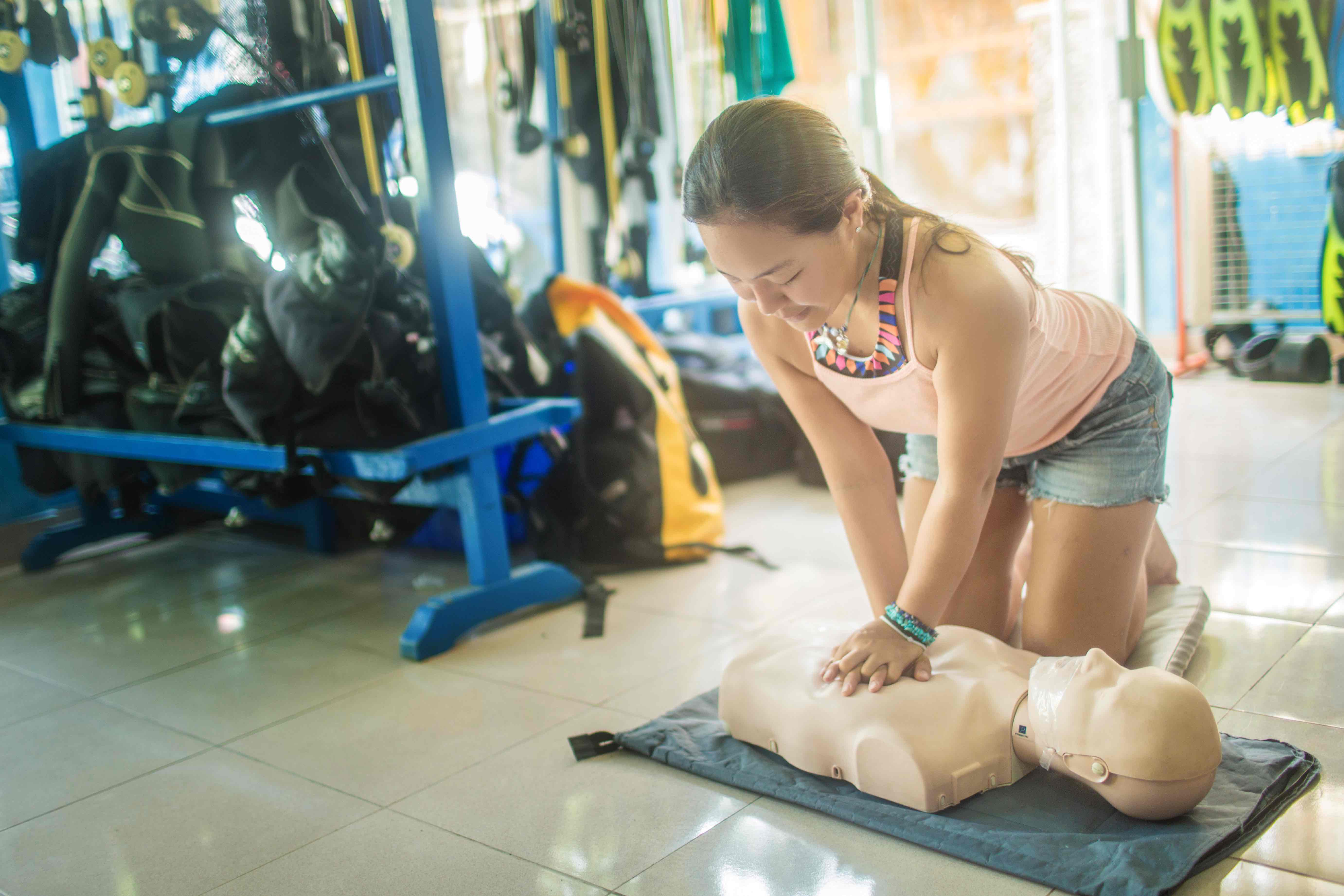 EMERGENCY FIRST RESPONSE (EFR)
First Aid and CPR are good skills for everyone not just in Scuba Diving. You need these skills for the PADI Rescue Diver course. The Emergency First Response (EFR) course teaches you medical emergency response skills and gives you confidence so you are prepared to help in an emergency.
What you learn in the EFR course:
BLS (Basic Life Support) CPR and rescue breathing at the layperson level
Preventing and caring for shock
Spinal injury management
Use of barriers to reduce disease transmission risk
Basic first aid and first aid kit considerations
These skills can be used in any area or environment from being a parent, working with children or being involved in adventure sports. Most work organisations will accept this as a First Aid course to be used, recognised and credited.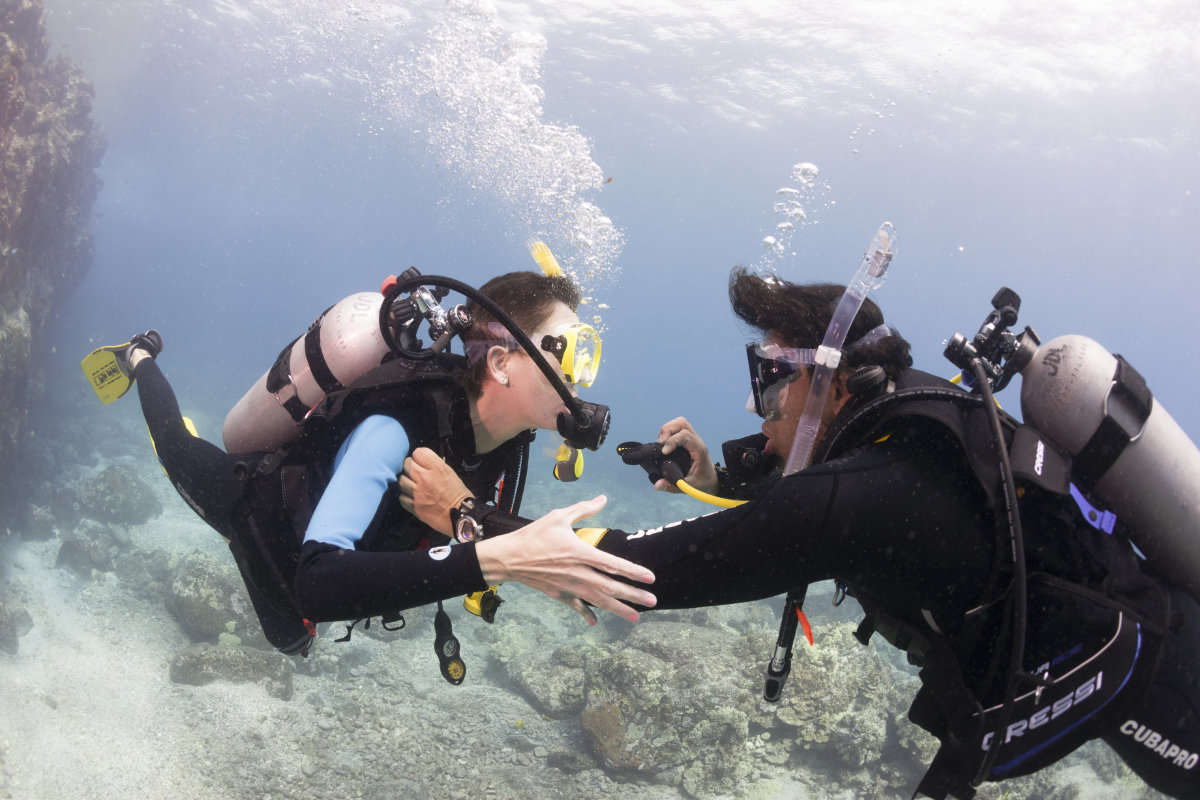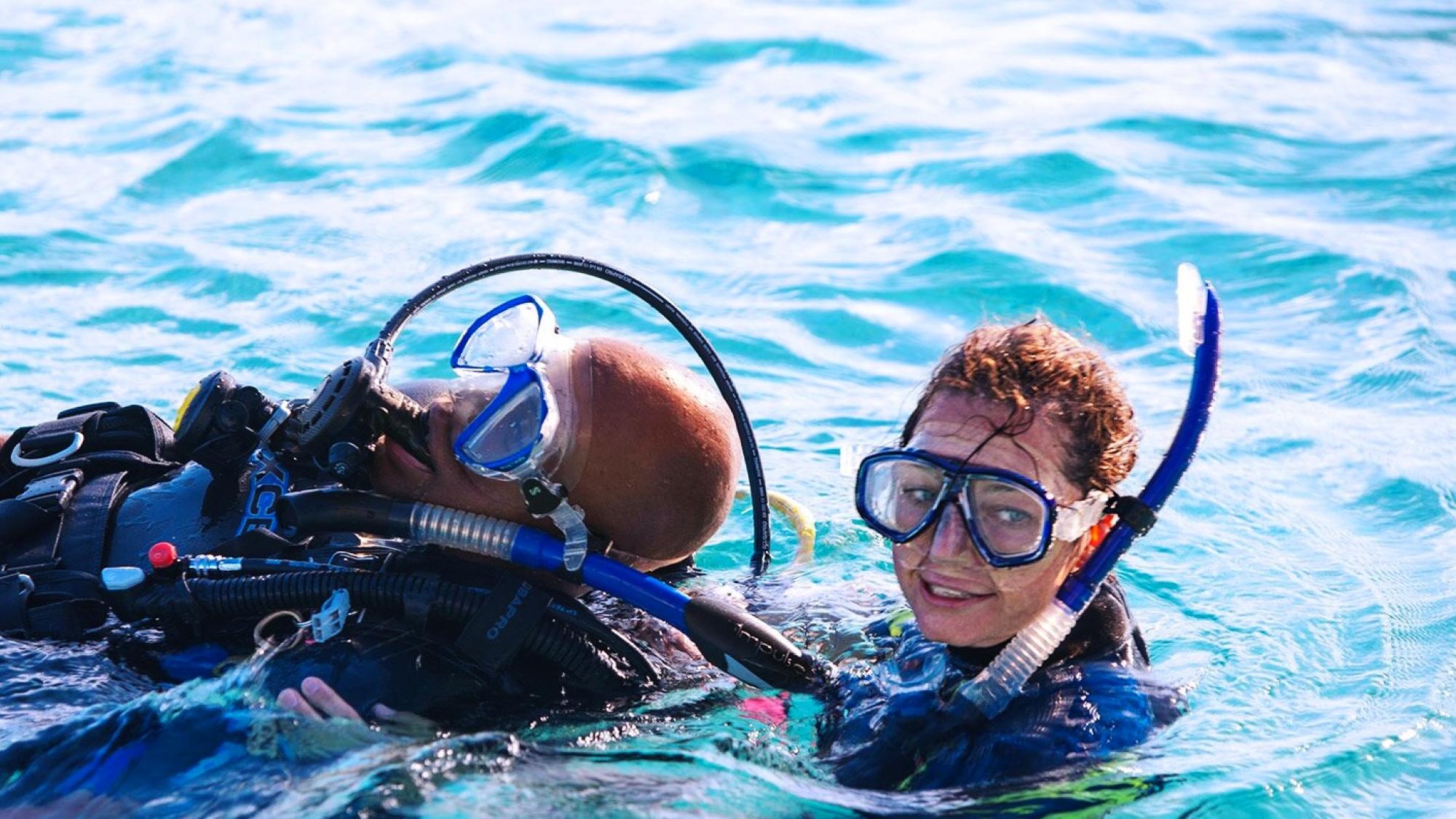 USD 350 / 3-4 DAYS / 4 DIVES
The PADI Rescue Diver course is a challenging and informative course that will build your confidence as a recreational diver. Three to four days of intensive classroom and in-water rescue training will be both fun and rewarding for all divers. Students will complete 12 Open Water Training Exercises which emphasize a diver's ability to be flexible and adapt to personal and environmental conditions. In the end, all 12 exercises will be practiced in real-life scenarios. Includes:
First aid for diving injuries
First aid for marine injuries
Emergency procedures
Rescue equipment consideration and usage
Distress recognition
Self-rescue
Rescue entries, approaches and exits
Assist and transportation of patients
Missing, unconscious and submerged diver rescue
In-water artificial respiration
Accident recording and reporting
By the end of the course, you will have expanded your knowledge of diving, increased your level of diving skill and be more aware of what is happening in the diving environment. Most importantly, rescue training can help you to save lives and increase safety by preparing you to properly respond to diving emergencies.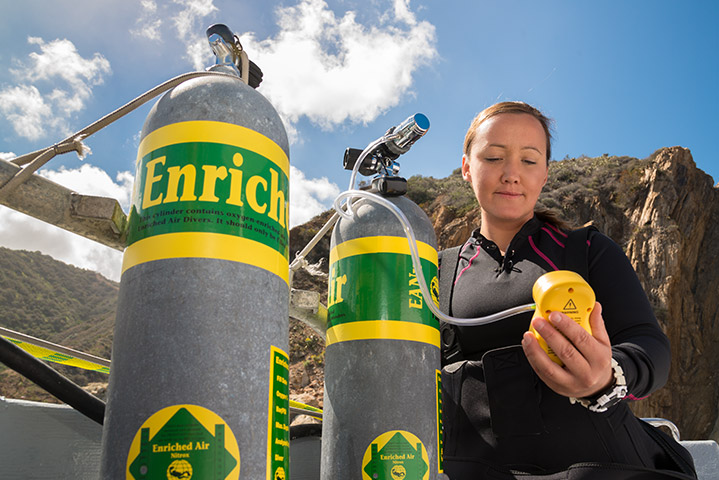 PADI ENRICHED AIR DIVER (Nitrox)
Stay down longer and get back in the water sooner. Learn how to dive using Enriched Air Nitrox.
The PADI Enriched Air Diver course is PADI's most popular specialty scuba diving course, and it's easy to see why. Scuba diving with enriched air Nitrox gives you more 'no decompression' dive time. This means more time underwater, especially on repetitive scuba dives.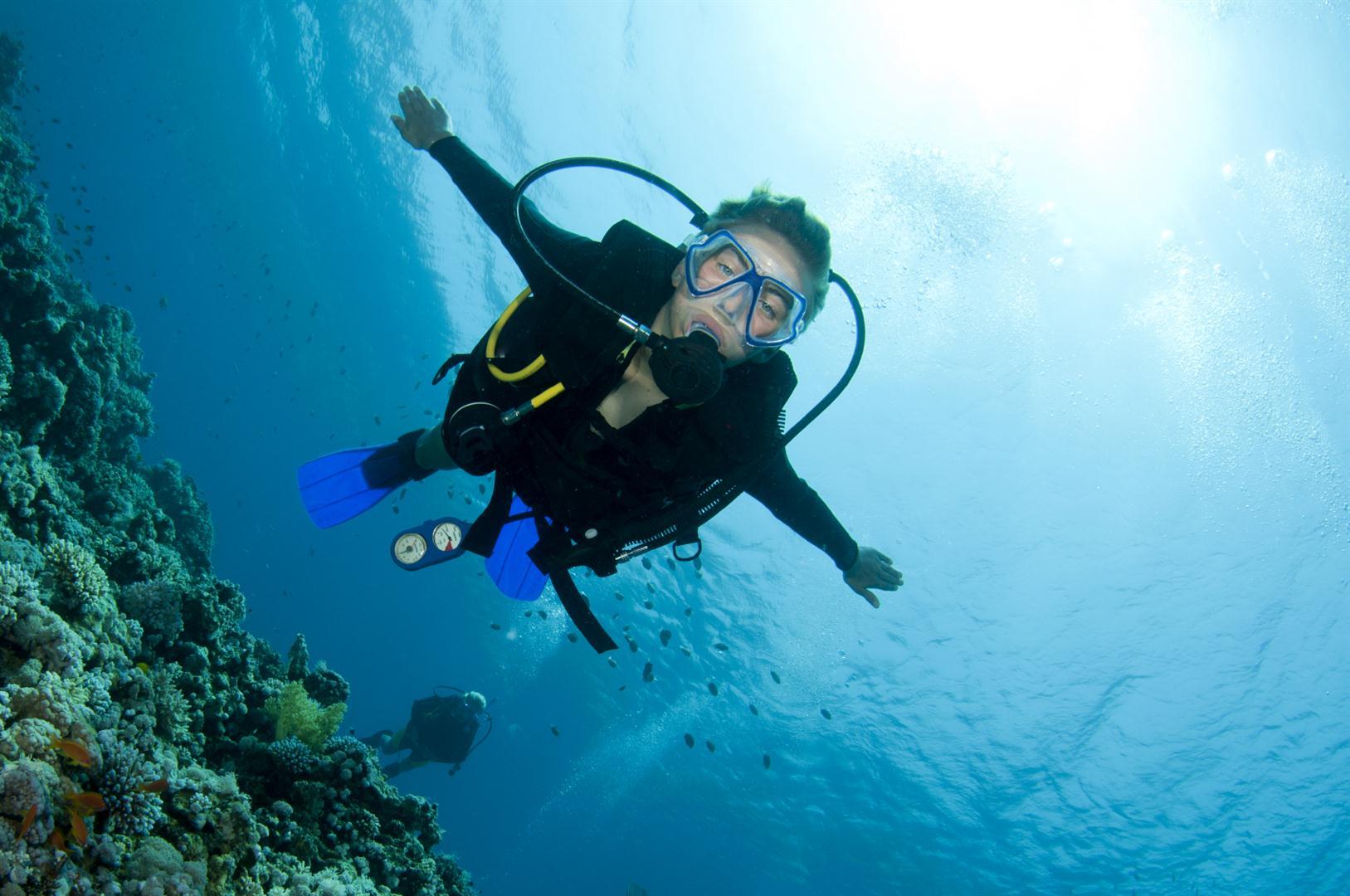 Explore the wonders of the deep. Learn techniques for diving in the deeper ranges of 18-40 meters. After your first few scuba dives, you soon want to explore a bit deeper. There's something exciting and mysterious about the depth that attracts divers.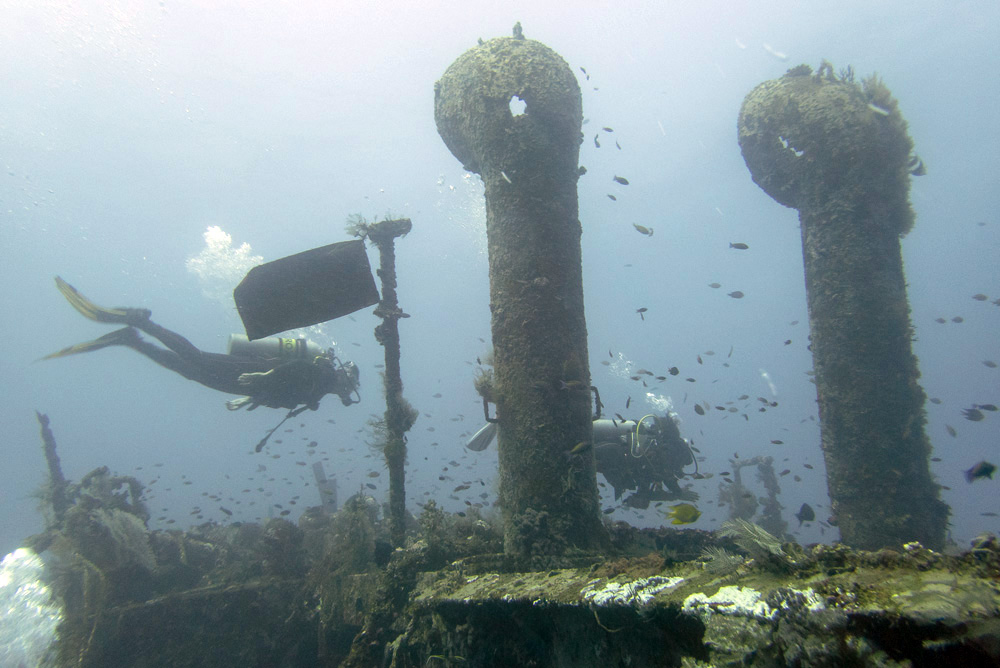 Whether sunk on purpose as an artificial reef or the result of mishap, wrecks open fascinating windows to the past. Most divers find wrecked ships, airplanes and even automobiles nearly irresistible because they're intriguing to explore, exciting avenues of discovery, and usually teeming with aquatic life. The PADI Wreck Diver course teaches you the ins and outs of rewarding, responsible wreck diving.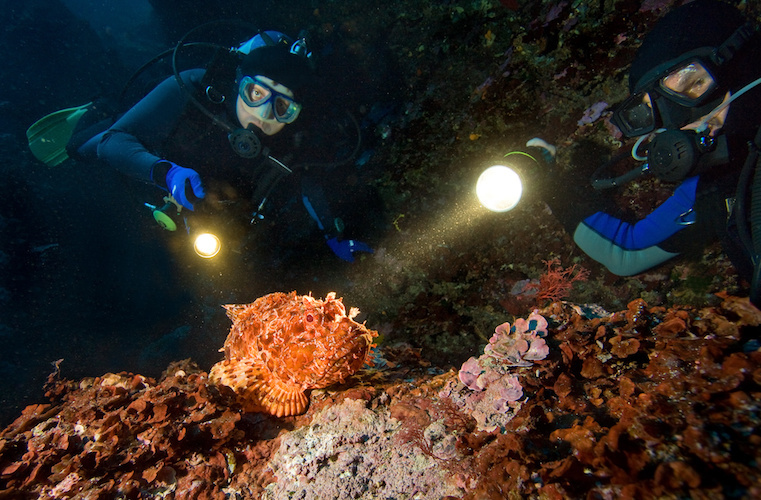 PADI NIGHT DIVER SPECIALTY
As the sun sets, you don your dive gear, slip on your scuba mask and turn on your torch. Although you've seen this reef many times before, this time you dive into a whole new world and watch it come to life under the glow of your dive light. Learn about night dive planning, equipment and navigation. Plus see a whole new cast of critters that comes out at night.
PADI UNDERWATER NAVIGATOR
Be the scuba diver everyone wants to follow because you know where you are and where you're going. The PADI Underwater Navigator course fine-tunes your observation skills and teaches you to more accurately use your compass underwater. If you like challenges with big rewards, take this course and have fun finding your way.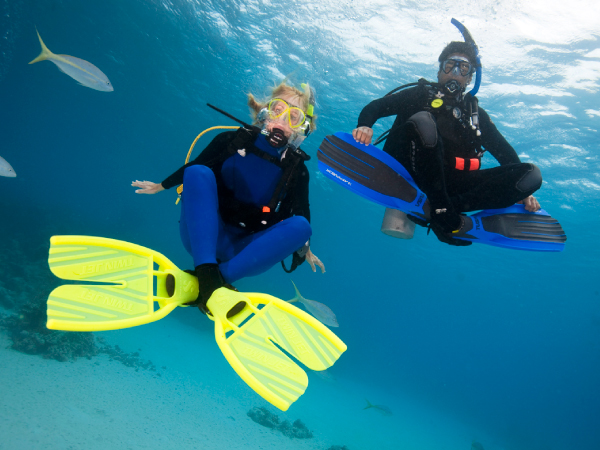 PADI PEAK PERFORMANCE BOYANCY
Observe aquatic life without disturbing their surroundings. Improve the buoyancy skills you learned as a new diver and elevate them to the next level.
Divers who've mastered the highest performance levels in buoyancy stand apart. You've seen them underwater. They glide effortlessly, use less air and ascend, descend or hover, almost as if by thought. They interact gently with aquatic life and affect their surroundings minimally. The PADI Peak Performance Buoyancy course refines the basic skills you learned as a PADI Open Water Diver and elevates them to the next level. Neutral buoyancy is the key to conserving your air consumption and leaving minimal impact on the aquatic environment.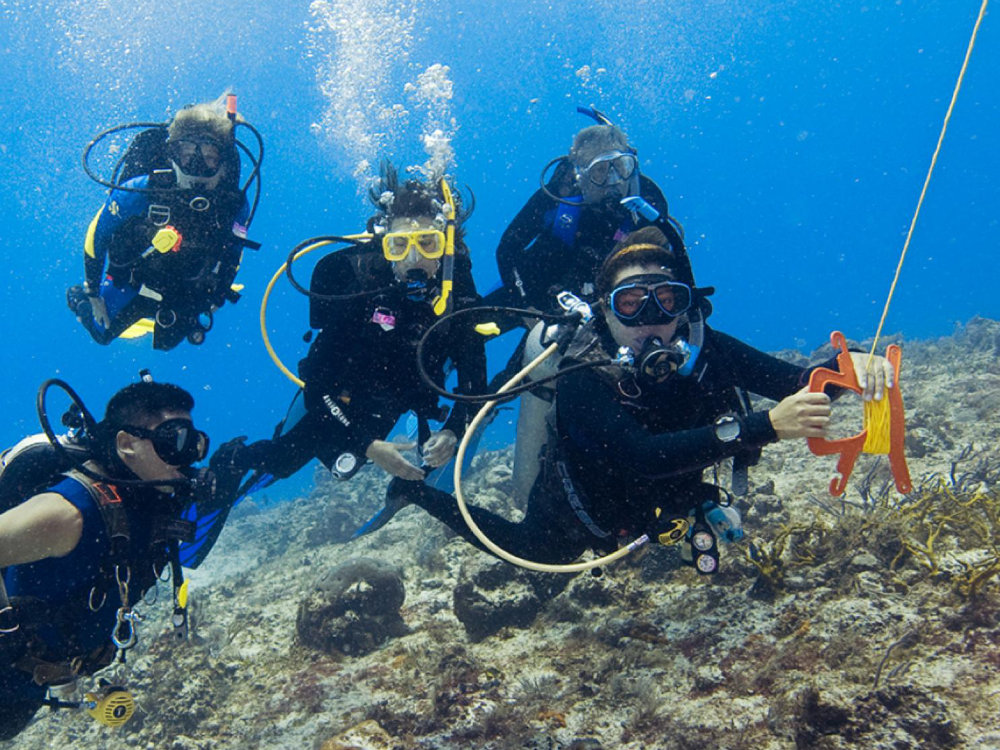 The PADI Drift Diver Specialty course introduces you to the coolest magic carpet ride you'll ever experience. This course shows you how to enjoy rivers and ocean currents by "going with the flow," staying with your dive partner, communicating with the dive boat and knowing where you are the whole time.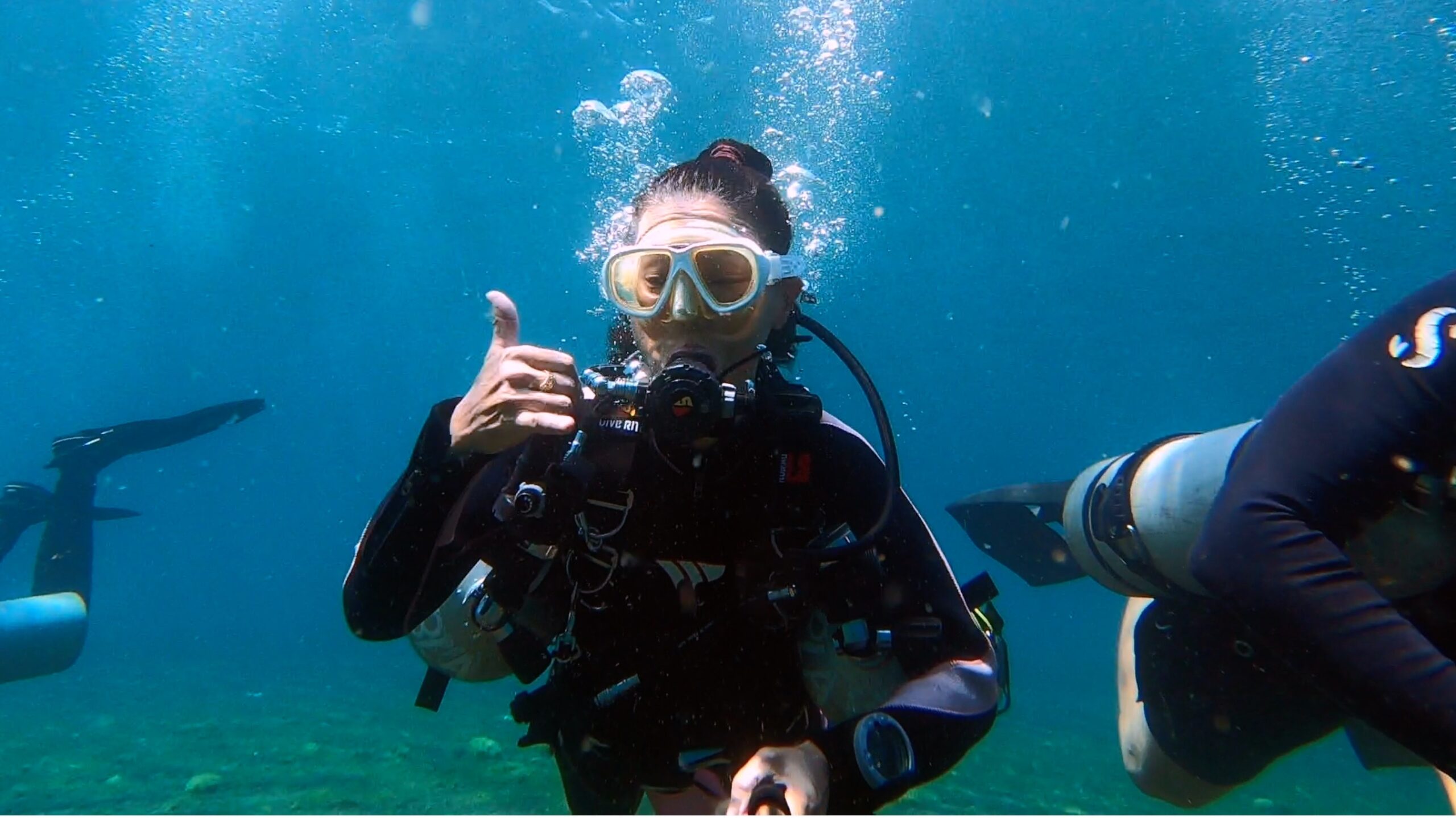 USD 70 one dive / USD 115 two dives
You've seen those guys with two tanks and thought they must be technical divers. Actually not always. Sidemount can be recreational as well to help you solve air consumption and buoyancy difficulties. This is equipment that gives you extra safety in currents and extends your dive time. Not sure yet about it? Try it out to have your own opinion!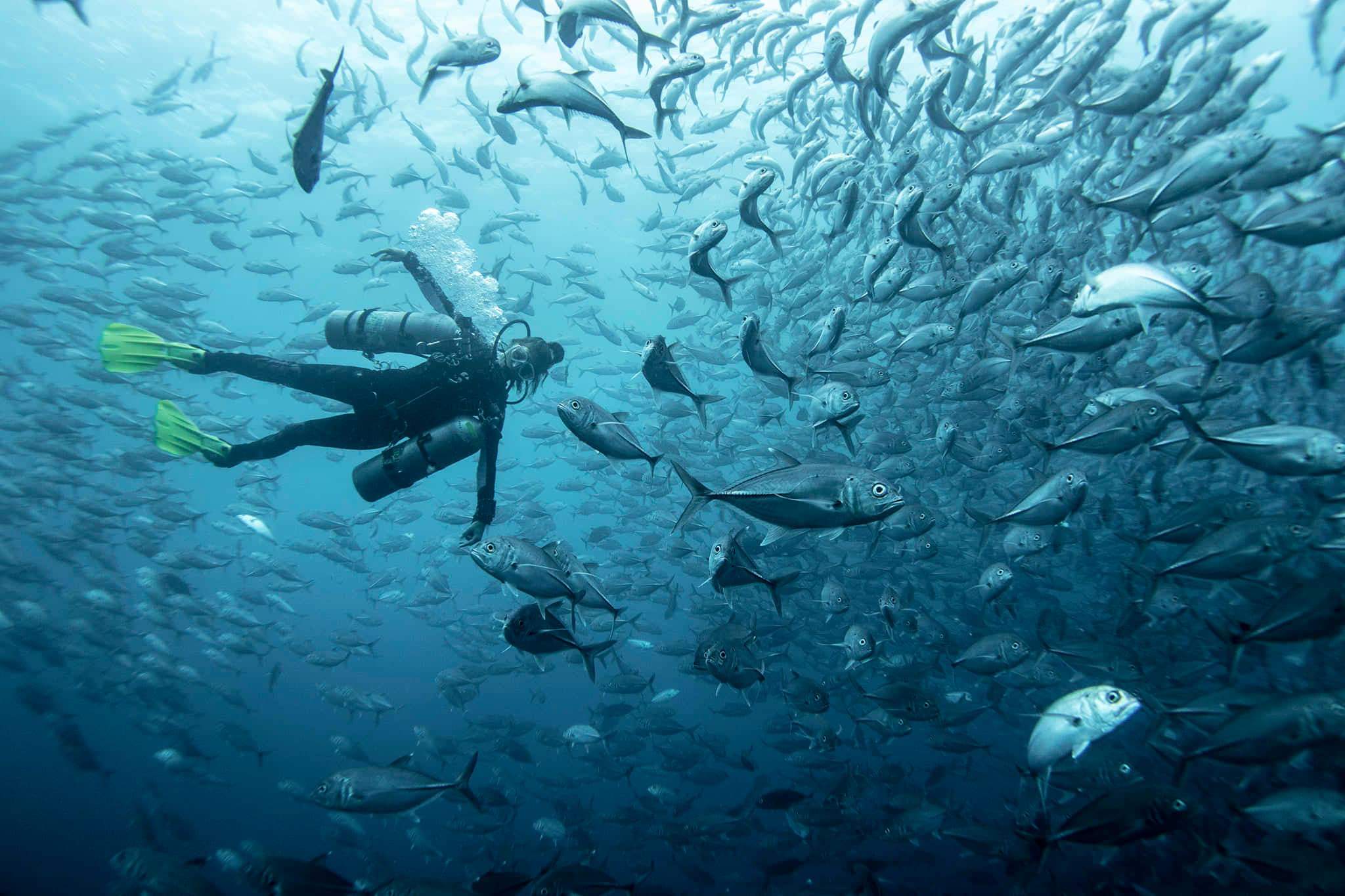 USD 320 /1 confined + 4 OW DIVES
A sidemount configuration (scuba tanks alongside of the diver) offers more flexibility and better streamlining options. Learn about the many benefits of diving with a sidemount configuration.
Having scuba tanks on your back isn't a requirement for exploring the underwater world. Many scuba divers have discovered the joy of mounting cylinders on their sides. Sidemount diving gives you the comfort of a second tank – meaning more air on your dives! Plus, you don't have to walk with heavy cylinders on your back – just enter the water, clip them on and go.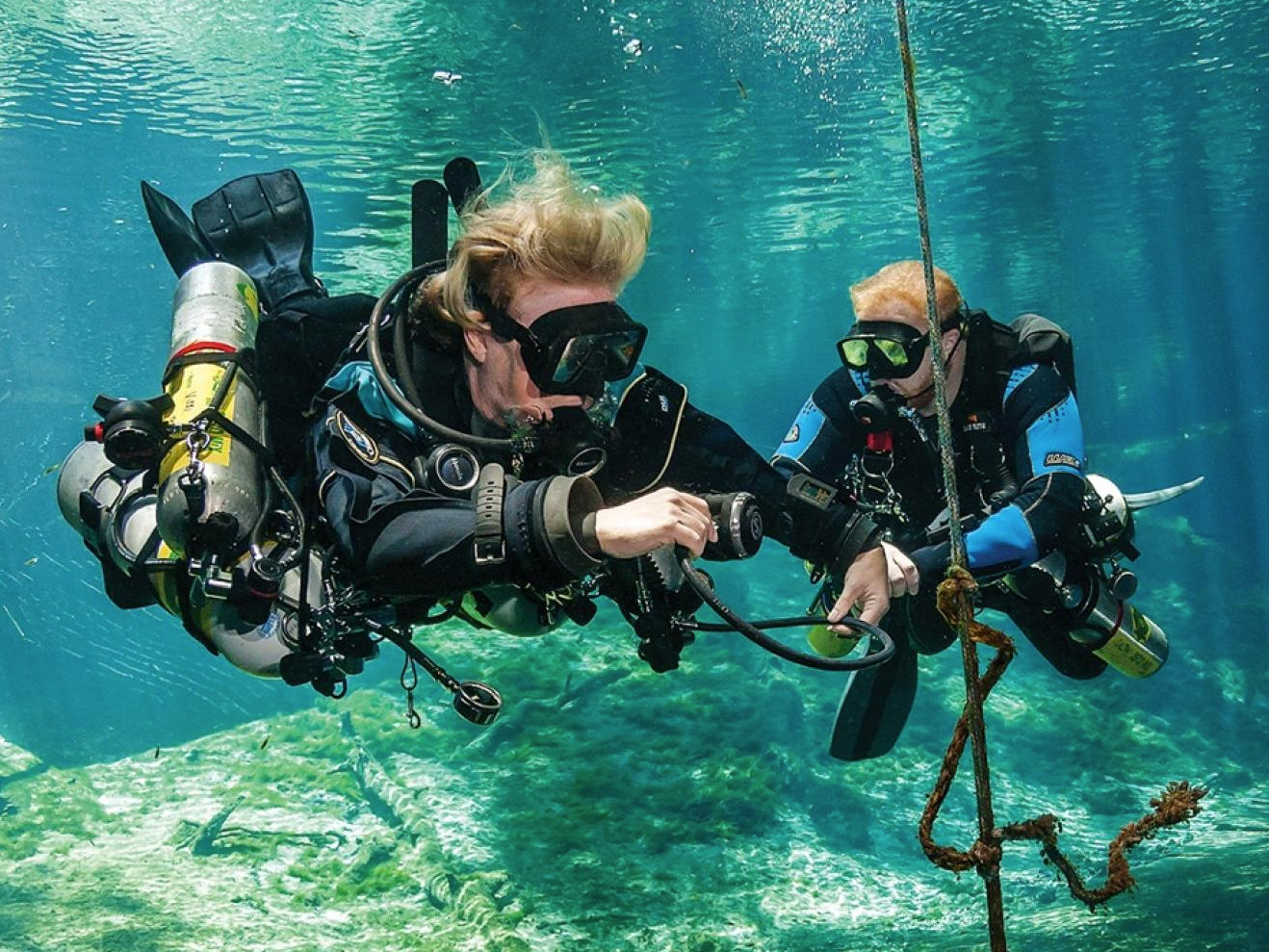 PADI TECH SIDEMOUNT DIVER
USD 360 / 1 confined and  4 OW DIVES
If you've looked into technical diving, you realize that tec divers always wear more than one tank. Sidemount is an increasingly popular way to configure multiple cylinders for technical diving. You can enter the world of tec diving with the Tec Sidemount Diver course and apply what you learn to other TecRec courses.
Your instructor may offer to integrate this course with the Tec 40, Tec 45 or Tec 50 courses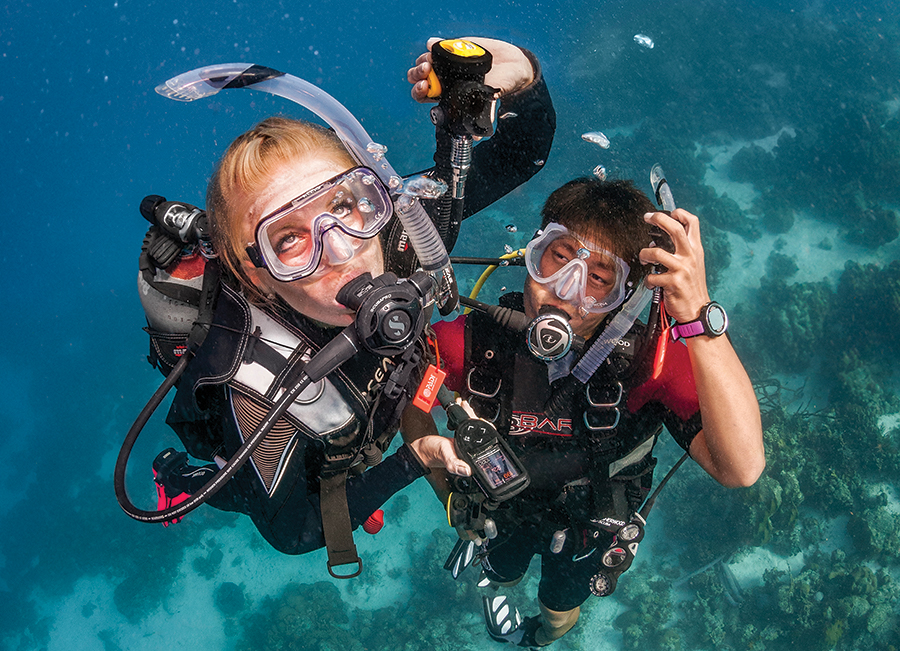 This package is designed for those who would like to extend their diving knowledge, to learn new skills to improve their comfort underwater or to go PRO and meet requirements to apply for work as a safety-conscious dive guide. This intense course will entail a lot of theory combined with its underwater application, so be prepared to study hard. However, this gives you a chance to become a Divemaster in one place and continue your internship elsewhere. We've specifically designed it for you with this flexibility in mind.
Price includes:
15 days Divemaster course;
Unlimited amount of diving during the course;
T-shirt;
Diving equipment rental (you should have your own mask, snorkel, fins and a dive computer).
Exclusions:
PADI Divemaster Crewpack (bag with materials needed);
PADI Fee (212 AUD);
Accommodation and food.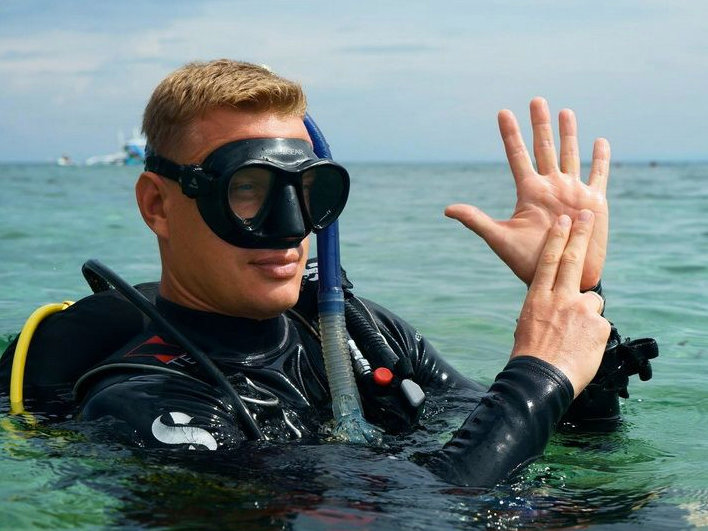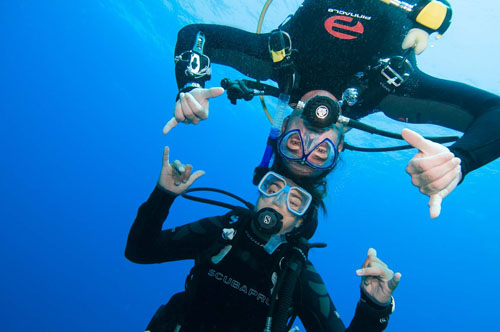 PADI Divemaster(Advanced)
This is the classic Divemaster course you can find at most dive centers, with a twist. Our approach is to get you assisting on courses as soon as possible by getting you appropriately prepared. That's why in the first 9 days you will work on presentations, skill development and stamina to comfortably assist instructors in diving courses and programs. We prepare you for real Divemaster duties within the first 9 days to give you a chance to truly experience what it is like to work as a diving professional. Starting day 10 you will assist in courses and guide additional Discover Scuba Diving program dives, because at that point you will be a certified Divemaster. No sitting and waiting for the Instructor to become available to do your training because he/she is busy with the students from another course.
Price includes:
30 days Divemaster course;
Unlimited diving during the course;
T-shirt;
Free Dive Against Debris course; and,
 Diving equipment rental (you need your own mask, snorkel, fins and a dive computer).
Exclusions:
PADI Divemaster Crewpack;
PADI fee (212 AUD);
Accommodation and food.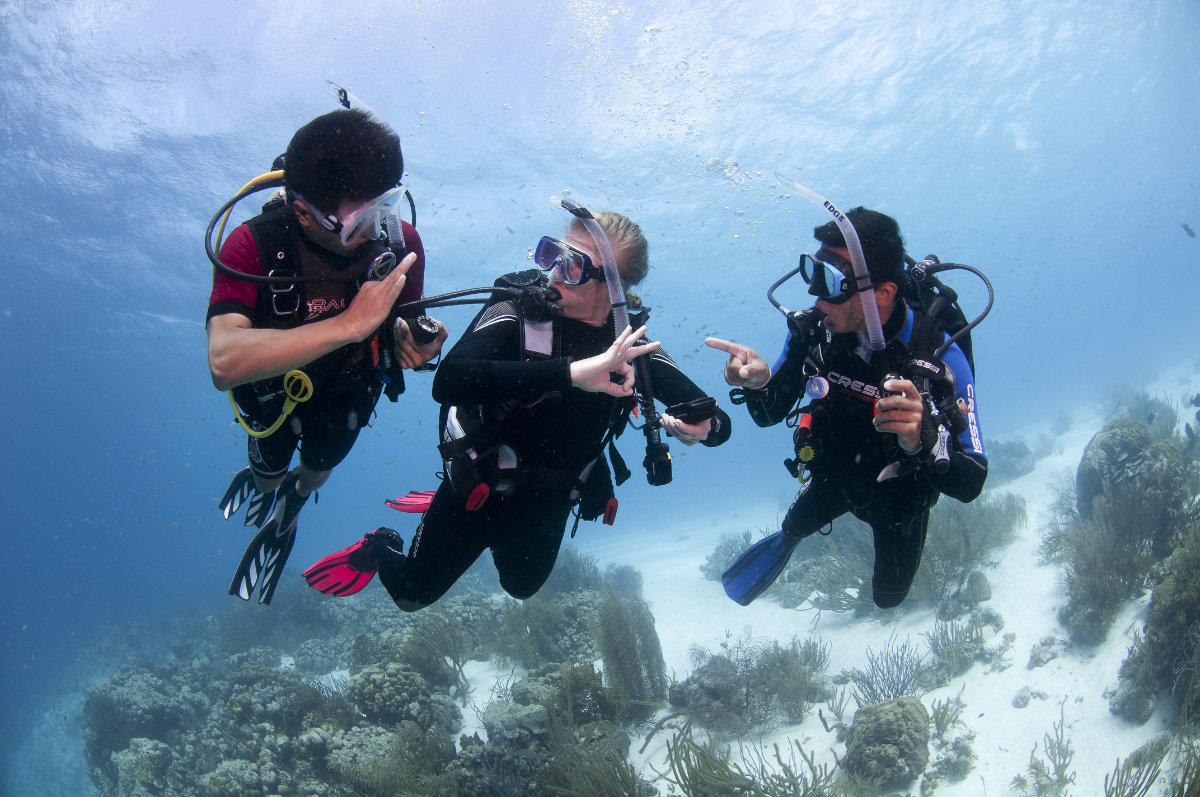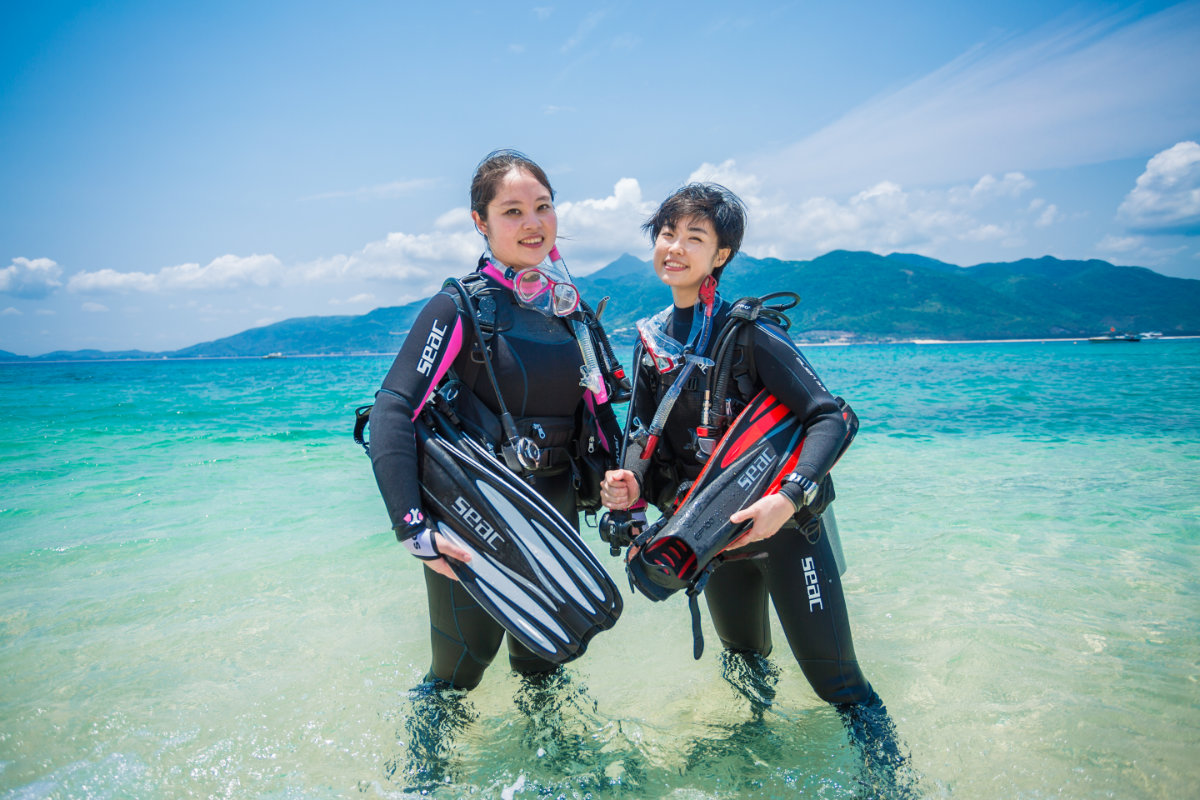 PADI Divemaster (Internship)
This course provides you with sufficient time to really understand how to leverage your strengths and compensate for any weaknesses. During the first 30 days, we will give you all the knowledge, tips, hints and advice to deal with real diving customers. In the second part of this internship program, we allow for your self-discovery, coupled with training on marketing, equipment maintenance and independent work.
Being a PADI Professional and working in a dive center may sound exciting and easy. That's how it may have felt when you did diving as a customer. The reality is more complex: there are many demands to the job and many other new Divemasters looking for work. That's is why we've tailored this package to prepare you for the real world and give you the best chance to represent yourself as a confident diving professional, not just another newbie Divemaster. We really make sure you have the chance to live your dream and enjoy your new life.
 Price includes:
60 days Divemaster course;
Unlimited diving during the program;
T-shirt;
Sales / marketing workshops;
30 days Internship;
Equipment maintenance course;
Free Dive Against Debris course; and,
Diving equipment rental for the first 30 days (you need your own mask, snorkel, fins and a dive computer).
Exclusions:
PADI Divemaster Crewpack;
PADI fee (212 AUD);
After 30 days you will need your own equipment. You'll benefit from our dive center discount to buy it, but you can not be a real diving professional without your own gear;
Accommodation and food.
STEP IT UP WITH TECH DIVING
Technical scuba diving involves going beyond recreational scuba diving limits
Tech diving is about the challenge and adventure of exploring places that no one else has ever seen.